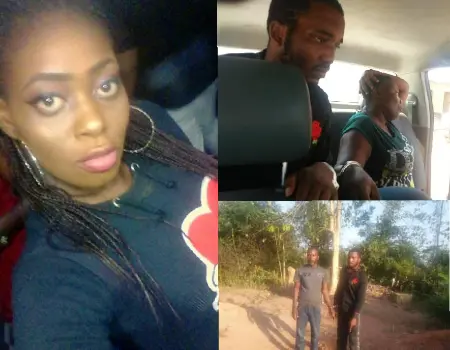 A final year student of Lagos State University (LASU) studying Theatre Arts, Favour Seun Daley Oladele who was declared missing on December 8, 2019, has been found dead at Ikoyi-Ile, Ikire in the State of Osun.
According to her father,
"She (Favour Seun Daley Oladele) arrived home from school December 7th and left December 8th.
READ ALSO:  ABUJA BANK ROBBERY UPDATE: One Robber Killed Four Arrested
"She said she was going back to school to prepare for her final exams and that same day, she was going to see a friend.
"That was what she said at home.
"It was in the course of telling us that, that she received a call from a friend who we did not know as of that moment but who we now know to be one Owolabi Adeeko, an ex-LASU student."
READ ALSO:  RED ALERT! Armed Robbers Trapped In 1st Bank, Surrounded By Police, Soldiers
Her father said after she (Favour) left, her number stopped going through after a while as she did not return calls neither did she call any of her parents to inform them of her arrival at school.
According to the sister of the deceased, Gbemisola, Favour's dead body was discovered at Ikoyi Ile in Ikire, Osun State, at the spiritual home of one Segun Philip on the 25th of December.
This was after the family was contacted by the police on the 24th of December.
READ ALSO:  Adams Oshiomhole Remain Suspended from APC – Gov Obaseki – EDO APC IN DISARRAY!
She was alleged to have been murdered by Owolabi Adeeko, an ex-student of Lagos State University (LASU), Ojo, who was said to have taken policemen to the place where her body was exhumed.
It was also alleged that he murdered her for rituals in collaboration with  Prophet Segun Philip and one Mrs Adeeko said to be Owolabi Adeeko's mother.
When contacted, the Police Public Relations Officer (PPRO) of Mowe police station, Ogun State, DSP Abimbola Oyeyemi, who confirmed the incident, said the culprits were arrested and detained at Mowe Police Station.
READ ALSO:  REVEALED! Bank Manager Colludes With Robbers To Rob Bank In Ekiti
"The culprits have been arrested and detained at Mowe Police Station. The case has just been transferred to the Police Headquarters Elewe Eran at Abeokuta in Ogun State,"
Oyeyemi told Tribune Online during a phone discussion.
www.sojworldnews.com (c) December 29, 2019
www.sojworldnews.com (c) December 29, 2019