Manchester United have moved quickly to bolster their defensive options with the arrival of Victor Lindelof, but how much do we know of the centre-back heading for the Premier League?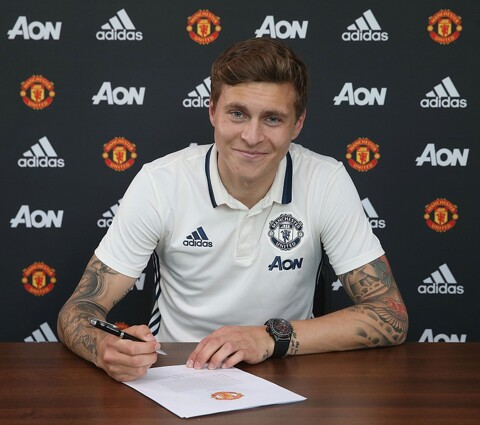 The Sweden international will become Jose Mourinho's first summer signing for £30.7million after the fee was agreed with Benfica last week.
Sportsmail has been in touch with Portugal football expert GONCALO LOPES to get the full inside track on the man heading for Old Trafford.Victor Lindelof likes to play ball, as we say here in Portugal. He's not the kind of centre-back that only has a defending role. He likes to have the ball at his feet, and to venture into midfield, but with caution.
He's very 'German' and has the nickname 'Iceman' because of the way he plays. Very tough, with a strong mentality, never loses his concentration – even under pressure – and with a high percentage on aerial duels. Also excellent are his tackling and passing skills. Perfect for the kind of game he'll face in the Premier League.
He has played three positions here in Benfica, from the youth teams to the first team: right-back, centre-back and also in the midfield. It was in this last position that he started his career in Vasteras, his first club in Sweden.
His idol was Steven Gerrard, but, for the United fans we can compare him to Rio Ferdinand. Here in Portugal he always mentioned Luisao, his team-mate, as his role model, because when he started to play centre-back, in the youth teams, Luisao was the captain and the boss of this Benfica team.
Although he's only 22, he's ready to join Manchester United, as he was in January when the Red Devils bid for him for the first time.
Of course, he has yet to prove himself in a league like the Premier League, but he has everything to play right away in the first team, no doubt about that.
Mourinho likes him a lot, and Lindelof is the kind of player that loves to improve. Mourinho likes that kind of player.
What should also speed up his confirmation in the first team is that, apart from Eric Bailly, United lack central defenders of a really high level. I think the partnership with Bailly will be one of the best in the Premier League.
Like I said, Lindelof likes to venture forward and Bailly could cover this. In the aerial game, this partnership has everything to win most duels, they are both very good at this. Something else that Mourinho has always liked.
Nowadays £30m isn't a huge amount. I think it's the right price for a young defender that has already won many titles, has Champions League experience, and plays for his national team (Zlatan Ibrahimovic is a big fan).
Benfica, in fact, had more and better proposals for Lindelof from Italy, but he preferred to go to Manchester United.
He will be missed here by the Benfica fans. He is very professional, the first to arrive and the last to leave training.
Beyond his girlfriend, who lives with him, he has two or three good Swedish friends who are always with him, mostly at his home.
Still young, he prefers to play video games at home. He is also one of the most active players on social media, often interacting with the fans, which has no doubt helped him become one of the most popular players.
www.sojworld.com (c) June 15, 2017