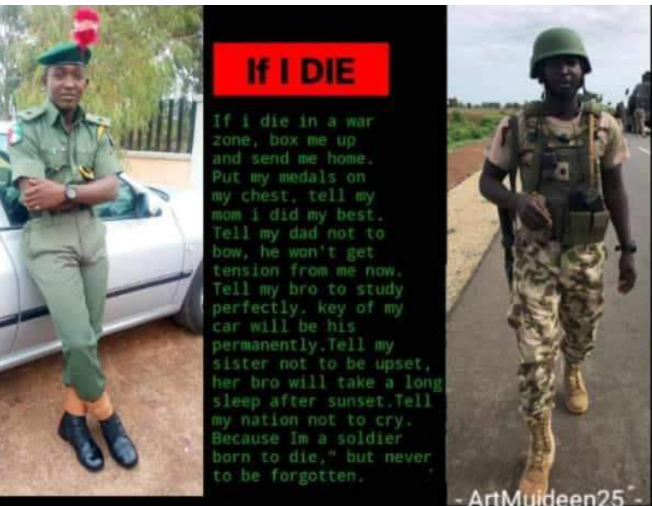 As if the young military officer, Hamza Buba knew he would be killed so soon when he left a letter before the dreaded hell-bound Boko Haram sent him to the great beyond before his time.
READ ALSO:  LASU Management Reacts To Final Year Student Murdered For Ritual Purposes
The letter he left behind has been trending on social media this Christmas.
READ ALSO:  Final Year Student Of LASU Killed By Boyfriend For Ritual, Body Found, Exhumed In Osun – MOTHER, PASTOR INVOLVED
What really brought out the melancholic side of Nigerians were not just the pictures of this gallant demised soldier, as this was not the first time Nigerians have heard about the death of a soldier.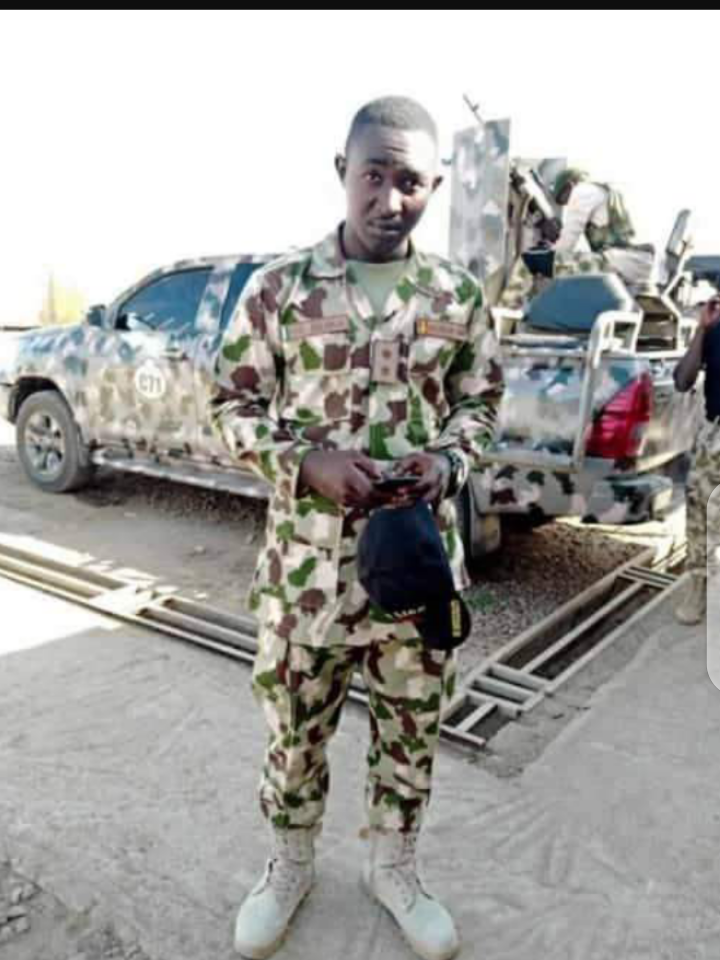 Rather, it was the message which was left behind by this Soldier that caused a stir on social media. The young man had written:
READ ALSO:  ABUJA BANK ROBBERY UPDATE: One Robber Killed Four Arrested
"If I die in a war zone someday, box me up & send me home.
Put all my medals on my chest, tell my mother I did my very best.
Please tell my dad not to bow; Surely, he won't get tension from me now.
Please tell my brother to study perfectly. The key to my car will be his permanently.
Please tell my sister not to be upset, for her brother will take a long sleep after sunset.
Please  tell my nation not to cry, because I'm a soldier, born to die, but never to be forgotten."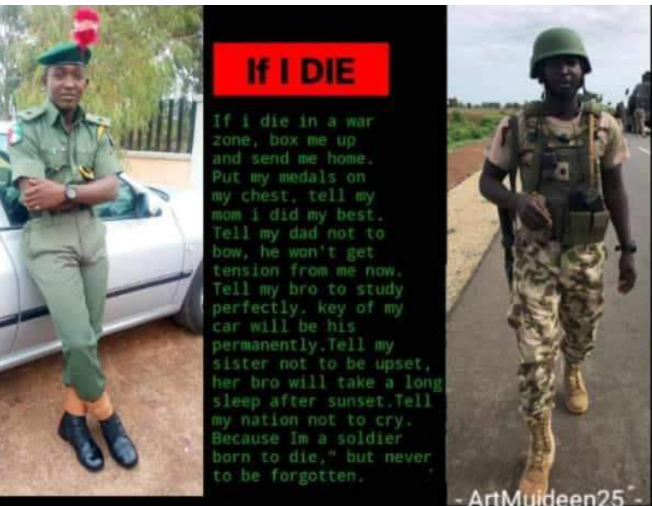 Even as this message and his pictures began to circulate online, many who knew the soldier had expressed their shock and pain at hearing the heart-rending news.
READ ALSO:  TRAGEDY! Pastor, Daughter, Son Dies In Swimming Pool On Xmas Eve
Below are some of the messages:
I've been calling your number since yesterday, hoping you'd pick and said it's a big joke💔. Rest on my gallant soldier. You died a hero😢.
You'll forever be in our hearts 🙏🏽 
RIP SOLDIER!!! I will always be grateful an angel took my place years ago when my place was given to some else. I wish you heaven's peace and eternal rest. God bless you and may God continue to protect the rest of the guys risking their lives even with outdated weapons.
READ ALSO:  REVEALED! Bank Manager Colludes With Robbers To Rob Bank In Ekiti
May his soul rest in perfect peace. We are grateful to the great family that sacrifice their son for the safety of me and you and continued existence of Nigeria as an indivisible country. Rest on soldier!!!
www.sojworldnews.com (c) December 29, 2019